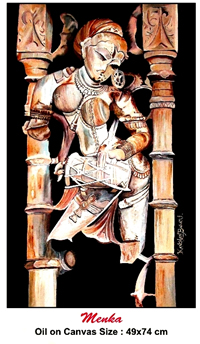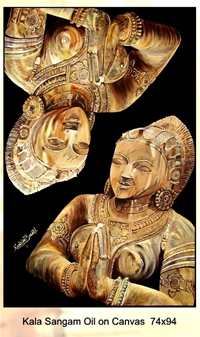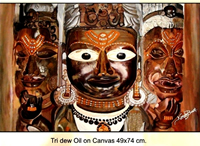 Media - Oil Paintings
Email - kanchanbagari@gmail.com
My name is Kanchan Bagari, I am an Artist from India.
Since last 7years I am doing practice in Art. I am from a small town. Since childhood I have been visiting the Chittorgarh Fort in my state. It is the fevourite holiday destination of my tourists. I am particularly attracted by the exquisite sculptures. Though the artisans have done brilliant work, they are unknown figures. I am concerned about the insensitive attitude of some visitors who have mutilated the sculptures in the temples. The sculptures inspire people to live life positively. Though some of the sculptures have been mutilated, they still appeal to the discerning art lovers.
For five years I have been so absorbed in trying to bring alive the sculptures on canvas. For that I had completely isolated myself from my neighbours and friends. What started as a hobby became a full-fledged passion after I graduated from Bikaner University in 2004.
To create public awareness about the need to preserve the country's dilapidated monuments, I am going to exhibite my Paintings at the All India Fine Arts & Crafts Society gallery in New Delhi on 22 May to 28 May 2010.
Through my solo exhibition , "Kala Ki Pukar"-part 1, I wants to pay tribute to the unremembered and unsung Indian Artists who built the magnificent temples and sculptures in India.