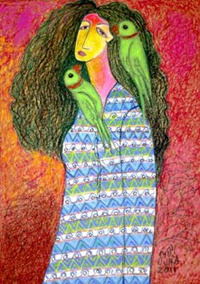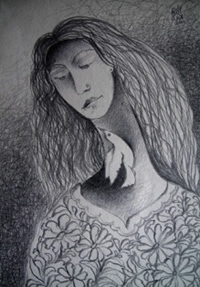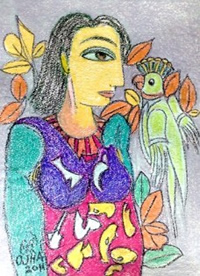 Media - Oil, Acrylic, Mixed Media
Address - E-809/810 Lok Sarita, Military Road, Marol, Mumbai-400059
Email - ojha_r2006@yahoo.co.in
"Colours are primary elements in my paintings. I like bright colours on a grey background. Red is my favourite."
Vivid splashes of paint, attenuated figures of women and an overall impression of melancholy are what characterise the paintings of Ratnakar Ojha. A recurrent theme in his art is young women captured in introspective moods. "This is reflective of my love for the human form, particularly the feminine form. Though the paintings depict women trapped by circumstance and the exigencies of the times they live in, they are not mere puppets. Expressive and lively, their faces show their inherent strength in the face of tragedy," he adds. His canvases exhibit a facade of brightness, but on closer perusal, display the underlying pathos.
Ratnakar Ojha does not let himself be bound by the conventional rules of art. In his paintings there are plenty of distortions and the bodies are elongated and twisted, thus emphasising emotions to a painful intensity. There is a marked absence of symbols and objects, except for the frequent appearance of the parrot alongside the girls. This symbol is associated with 'shringar' or beautification, and is also used to denote an absent lover. Colours hold an endless fascination for Ojha, and his paintings are striking with the brilliance of the colours he employs. Acrylic and oil are the most frequent mediums used by the artist, although he does dabble in watercolours and pastels occasionally.