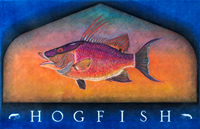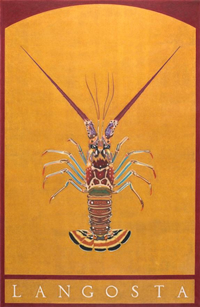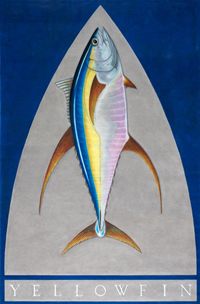 Media - Colored Pencil
Address - 512 33rd Street
West Palm Beach, FL
33407, United States
Phone - 305-801-3658
Email - william_cate@wlcate.com
Website - www.wlcate.com
William L. Cate (Bill) is a distinct combination of artist and architect, diver and angler. He was born in West Palm Beach, Florida in 1973 and grew up in small-town Lantana. As a child, he spent a lot of time fishing off the coast of South Florida with his father and brother targeting saltwater game fish, including mahi-mahi, his favorite. During summers, he enjoyed traditional family vacations to The Florida Keys hunting for spiny lobster. His early experience on the water shaped his love for the ocean and the creatures that inhabit it.

In 1991, Bill accepted a scholarship to the School of Architecture at the University of Miami in Coral Gables, Florida, a school "known for its spectacular analytical and whimsical drawings of architecture, urban planning, and landscape design." After five years of being immersed in Miami's surrounding environment, he learned how to use vivid colors to echo the spirit of places such as Coral Gables, Miami Beach, Key West, and the Everglades. The university's philosophy of creating "realistic drawings to illustrate the natural and man-made environment, animals and objects, and plans for designing and reinventing built and un-built cities" is the foundation of his knowledge. The "Atlantic Sailfish", inspired by the historic Pier 5 in Miami, Florida and completed during his last semester in 1996, was Bill's first opportunity to merge his education as an architect with his passion for the outdoors.

After graduation, Bill accepted an intern-architect position with a boutique architecture firm in West Palm Beach, Florida, where he focused on completing his internship and obtaining his architectural license. In his spare time, he completed the "Mahi-Mahi" in 1999 prior to moving to Cambridge, Massachusetts to pursue a graduate degree in Civil & Environmental Engineering at the Massachusetts Institute of Technology. In 2001, Bill accepted a construction management position in Coral Gables, Florida with Hines, one of the largest real estate organizations in the world.

After growing weary of the corporate world and everyday life struggles, Bill returned full-circle to art in 2007 as an enjoyable, creative outlet. Following an eight year hiatus, the "Yellowfin" was completed in the fall of 2007 as a dedication to his father for his sixtieth birthday. Based on the positive feedback he received over the dedication and subsequent words of encouragement, Bill formally established Beloved Creations by W.L. Cate in early 2008. The company made its debut at the 2008 Miami International Boat Show and now enjoys a full schedule of venues. Bill has completed ten original pieces to date including the Atlantic Sailfish, Mahi-Mahi, Yellowfin, Langosta, Tarpon, Wahoo, Kingfish, Snook and the newly-released Blue Marlin and Hogfish, which are offered in various sizes and media.

Bill resides in West Palm Beach, Florida with his loving wife, Karen, two daughters, Madison Leigh (6) and Avery Elizabeth (5), and son, William George (1). He is especially thankful for all of the inspiration and encouragement he has received over the years from his brother and sister-in-law, Tim and Sandy Cate, who live in Lake Worth, Florida with their daughter Cadie Janelle. He is also thankful for the love and support he has received from his parents, William and Linda Cate, who currently reside in Lantana, Florida.