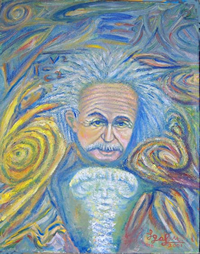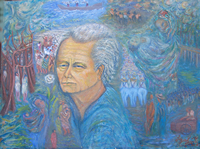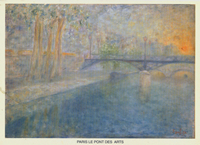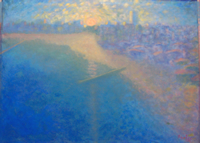 Media - Paintings and Prints
Address - 433 WEST BROADWAY, NY NY 10012
Phone - 2129255964
Email - galimaz@aol.com
Website - IGALCALDERPICASSOWARHOL.COM
IGAL M: "THE LAST IMPRESSIONIST?"

To celebrate the coming of the 21st Century, Igal M, a talented and acclaimed artist in the 1960s in Europe and Mexico held his first shows in 2001 and 2003, after almost 30 years of absence from the world of art. "I contributed to create the most sacred art, 'life.' My creation is in my wife and our two daughters, whom I devoted my life for. They gave me in return joy and happiness more than any other art can give. This was my art. I am back now with full power. Nothing was lost. My return to painting was as natural as my family." The first show, titled "A Celebration of Life, Friendship and Art," which was a retrospective of paintings from 1960-2001 from Paris, Mexico, and New York, was held from June 15, 2001 - September 30, 2001 at the NY Information Technology Center Gallery in New York City. The follow-up show, "Sunrise Sunset: Recent Paintings" ran from October 18, 2003 - December 18, 2003 at the Art Wise Gallery in Brooklyn, NY.

Igal Maoz was born in Israel in 1929. In 1960, he entered the "Ecole Superieure Nationale des Beaux Arts" in Paris. In the evenings, he studied drawing at the Grand Chaumiere School. Igal received recognition from the most important art critics wherever his works were shown. One of his most memorable moments was the visit of Edward G. Robinson to his show at a gallery in Los Angeles. With acclamation in his voice, Robinson said, "Monet, Turner" and in his letter afterward to Igal, "You are possessed of fine talent and, serious and dedicated as you are, you are bound to receive recognition and perhaps sooner than some of the great masters of old."

In 1965, Igal was invited to Cuernavaca, Mexico by the famous muralist Siquieros to work on the biggest mural in the world, called "La Marche de la Humanidad." The mural is now on display in Chapultapec, Mexico City. In 1967, Igal was given a one-man show at the Palacio de Bellas Artes in Mexico, which is the highest recognition for an artist in Mexico. While in Mexico, Igal met B. Traven, the enigmatic writer of this century. His most famous work is "The Treasure of the Sierra Madre" which was made into a movie with Humphrey Bogart. Igal was the only known person who drew a portrait of B. Traven, and it was the only image of Traven ever published in the newspapers.

Selections from Igal's Exhibitions:

In 1964 in Bergerac, France, his painting was shown side by side with Picasso
In 1965, he participated in the famous "Salon des Independents" at the Grand Palais in Paris, together with works by Bonnard, Vuillard, etc.
In 1965, he was invited to "The French Painters of our Time" in the Sao Paulo Museum, Brazil
In 1967, he had shows at the Palacio de Bellas Artes and participated in "The III Bianal of Sculptors" in Mexico
What the critics in Europe said about Igal's work:

Mask et Visage: "A revelation in a young artist, painter and sculpture.he arrives to a degree of superior sensitivity, reality and dreams, poetry." [Irene Mauget, Paris, 1965]

Le Figaro: "Igal abandons to his sensibility the outside contour of things and finds the poetry within them.his painting speaks of certain Impressionists, but he borrows from no one." [Andre Larche, Paris, 1965]

The Last Hour: "Igal is an Israeli painter whose sensitivity is inscribed in colors of bathing Impressionist landscape, while one sometimes might imagine having been conceived in the past century. The impression is evident, rich in poetic painting." [Allan Viray, Bruxelle, 1964]

"The 'Toro' of Igal is the coronation of power itself." [H. Adam]

Instyroart:

While in Mexico, Igal invented a new technique he called "Instyroart" and the "Styrograph" graphic medium, which opened a new page in the history of art and was acclaimed by the Mexican media:

"I have seen the birth of Futurism in Italy and the evolution of Cubism in France. Also more recently, the explorations of Pop and Op Movements.Who can judge Igal's new technique as too daring?"

[Gutierrez Tibon, Mexican Encyclopedia]

In 1971, Igal was invited to create an Instyroart mural 40' x 8', called "Universe, Trip into Space," at the Ontario Institute for Studies in Education, a science fiction writers conference in Toronto, Canada.

Art Critics of Mexico:

El Sol de Mexico: About the portrait of B. Traven, "In this painting [Igal] manifests all the art that surges from the palette and brush of this genius painter." [Editorial, 1967]

El Sol de Mexico: "Igal is a Post Impressionist attracted by nature, and humans as a part of nature, human figures growing from the earth and vegetation interlace in his painting, and his art is a reflection, a poetry of his love for life." [E.Z. de Brault, 1966]

"It is as a portraitist that Igal expresses the most powerful touch of his brush. The portrait of B. Traven is evocative, a testimony of passion. It is fascinating to see him working. In just a few seconds the colors spring from his hand, transmitting to the spectator an intense emotion." [Rosa Ellena Lujan, 1967]

The Excelsior: "The colors are clean, the paintings are expressive, rich in atmosphere. Immediately, you get the sense of a Neo Impressionist artist." [Margarita Nelkin, 1967]

El Dia: "When you see Igal's paintings, you cannot help but associate with the Impressionists. It is easy to cite Monet, Van Gogh, Sisley. For me, some of his paintings make me think of the singular English painter, Turner, the true precursor of Impressionism." [A. Foppa, 1967]

"Igal is not a 'consecrated artist,' not a member of the elite world of renowned artists, but his unique contribution to the world of art is the only portrait to be known in the world of the mysterious writer, B. Traven." [Ricardo Pina, 1967]

Revista Mexicana de la Cultura: "From the caves of Altamira to Picasso, painting was created on a passive surface. For the first time in pictorial art, the surface ceases to be just a simple support for the painting and it creates a play of colors, 'Instyroart' is born. It achieves the third dimension without being sculpture." [J. Pichardo, 1969]

* * *

Bio compiled by Cassiora.