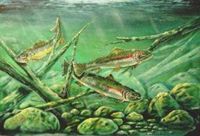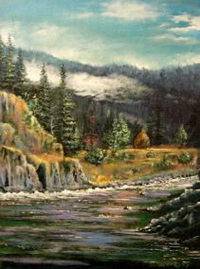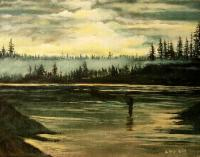 Media - Oils and Acrylics
Address - 4366 Talbot Rd. S
Jefferson, OR
97352, United States
Phone - 971-235-6974
Website - www.quistartstudio.com
Email - brad_quist@hotmail.com
Brad mostly uses oils to paint the different species of freshwater fish and fishing scenes, always keeping in mind the mood of the landscape and the color and detail of the trout being painted. " I love iridescence and how the light and water work together to create that underwater scene." "Adding the fish to the composition makes it even better."

Most of my background and passion in Art stems from growing up fishing in Montana and observing a few early morning sunrises and sunsets along the way. Combining this with some formal training in college and a lot of trial and error I have come to enjoy painting landscapes and freshwater fishing scenes.

In 2001 I began entering shows and stamp competitions including: Arts for the Parks in Wyoming, Wyoming's Conservation stamp, Pennsylvania's trout stamp competition and The North Clackamas Art's Guild show in Milwaulkie, Oregon. I call Oregon my home and enjoy raising my family here with the mountains and coast close by.